Print
National Leaders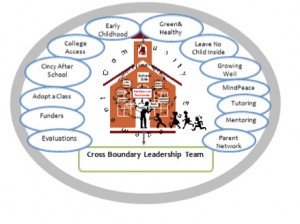 The Community Learning Center Institute is a national leader in leveraging public school facilities to become hubs of educational, recreational, cultural, health and civic partnerships, which optimize the conditions for learning and catalyze the revitalization of the community.
Over the last decade, our team has led the planning, development and implementation of one of the country's only district-wide community learning center strategies which is premised on five foundational elements:
A commitment to comprehensive, sustained community engagement to ensure the development of partnerships responsive to the school – community's shared vision for the school as the center of the neighborhood.
Site-based governance charged with establishing the unique vision for each community learning center, steering the selection of community partners, and evaluating the performance of those partners.
Partnership networks comprised of providers in each area of need to provide district wide capacity and equitable access to quality services, e.g. Growing Well (physical health),MindPeace (mental health),Adopt A Class Foundation (business mentors), College Access, Leave No Child Inside (Nature and Environmental) and Alliance for Leadership and Interconnection (green built environments and curriculum).
Cross Boundary Leadership knits together the partnership network leaders as a collaborative team to provide coordination and integration of interdisciplinary resources.
On-site Resource Coordinators provide the critical infrastructure at the site level to develop, integrate and manage the community partnerships
Outcomes
With community learning centers as a central strategy for school and neighborhood improvement, Cincinnati Public Schools has:
Become the first urban district in Ohio to receive an "effective" rating,  the highest performing urban district in Ohio.
Surpassed enrollment projections including the return of middle class families to neighborhood schools
Provided the conditions for learning through hundreds of community partnerships which brought millions of dollars in additional resources to the students and their families.
Earned the distinction as the first district-wide Award of Excellence from the Coalition for Community Schools.

Print